From wheels to guns
Benelli Armi S.p.A. was formed in 1967. The idea behind the company, however, first came to the Benelli brothers, owners of the famous Benelli motorcycle company of Pesaro, in 1940. The Benelli brothers were passionate hunters as well as fine engineers, and at that time were already convinced that the future of hunting shotguns lay with semi-automatic models. This idea became reality when a brilliant designer from Bologna, Bruno Civolani, invented a revolutionary action. Civolani's design led to the creation of an extraordinary hunting shotgun that used a simple inertia driven mechanism in place of a conventional gas operated system.
With the bolt providing all the movement needed, this revolutionary design provided the fastest reloading action the world had ever seen, and permitted users to fire 5 rounds in less than a second. Benelli is a constantly growing company thanks to major investments in research and development. Over the years, innovative new products and advanced technology have consolidated Benelli's prestige and spread its reputation among hunters and target shooters alike, aided by the company's strategy of offering a range of semiautomatic shotguns that is recognised as the widest available today. Benelli was acquired by Beretta in 1983.

Mission: technology, quality, performance and design
Continuous innovation, research, the development of new technologies and materials, precision engineering and distinctive design are the keystones of Benelli's philosophy. Benelli's mission is focused on the design and production of semiautomatic shotguns that stand out from the competition for their advanced technology, refined styling and unrivalled reliability. Owning a Benelli shotgun means owning a product of distinction, and one to which all enthusiasts aspire.

Production and technology
Thanks to a strategic and consistent use of technology and an advanced industrial-standard production plant, the firearms that Benelli manufactures all offer superb ballistic performance and excellent functionality. Benelli has invested heavily in research, design and testing, and production takes place in a high-tech factory equipped with new generation plant and machinery under the supervision of the latest ERP and quality control software. Benelli also attaches the greatest importance to the professionalism of its people, and sees its workforce as key to ensuring the development of products and services that will consolidate its reputation as leader in the world of firearms for sport and defence.

Certification and sustainable growth
Prototypes are tested according to the strictest international standards and Benelli's Company Quality System implements both NATO AQUAP 2110 and ISO 9001 standards. Benelli's organisational and operational capacity received major recognition when the company's Environment Management System was certified to ISO 14001 and OHSAS I 8001 standards, proving that Benelli's unrivalled product quality is achieved in full respect of the environment.

Milestones
The continuous development of new technologies has enabled Benelli to introduce a series of products that are seen today as milestones in shotgun design. In 2002 Benelli threw down another gauntlet by entering the rifle market. This was a new departure for the company and demanded the highest levels of mechanical precision and reliability. With the introduction of a revolutionary new gas driven rifle action, Benelli pushed forward the frontiers of ballistic performance, and confirmed its reputation as a dynamic company full of ideas and resourcefulness. In December 2007, Benelli Armi acquired all the rights to the Franchi trademark.

Bimillionaire: 40 years 2.000.000 of rifles
The Bimillionaire shotgun celebrates an impressive milestone in the history of Benelli: 2 million shotguns in 40 years of production. 1967-2007: Over the last 40 years, Benelli has grown dramatically and achieved ever more ambitious objectives. This growth has been driven by passion, technology, quality and continuous commitment to production. Benelli's management style and company philosophy have become recognised as models of efficiency, professionalism and innovation, capable of deriving maximum benefit from constantly developing design capacity, highly qualified human resources and advanced technology.
Buying a Benelli shotgun means that you recognise and appreciate the passion and care that underlies its unique technology. Elegant lines, quality finish, prestigious materials, warm wood essences and beautiful veining are all typical Benelli characteristics. Benelli semi-automatics are the forerunners of a whole new generation of shotguns and have the ability to fascinate, excite and inspire. Benelli is now embarking on a new chapter in its history, with the same enthusiasm and dynamism that characterised its formation and its growth so far. This new chapter will be yet another of new challenges, projects, dreams, inspirations and rewards. Benelli: 40 years of quality, technology, innovation, passion and authenticity.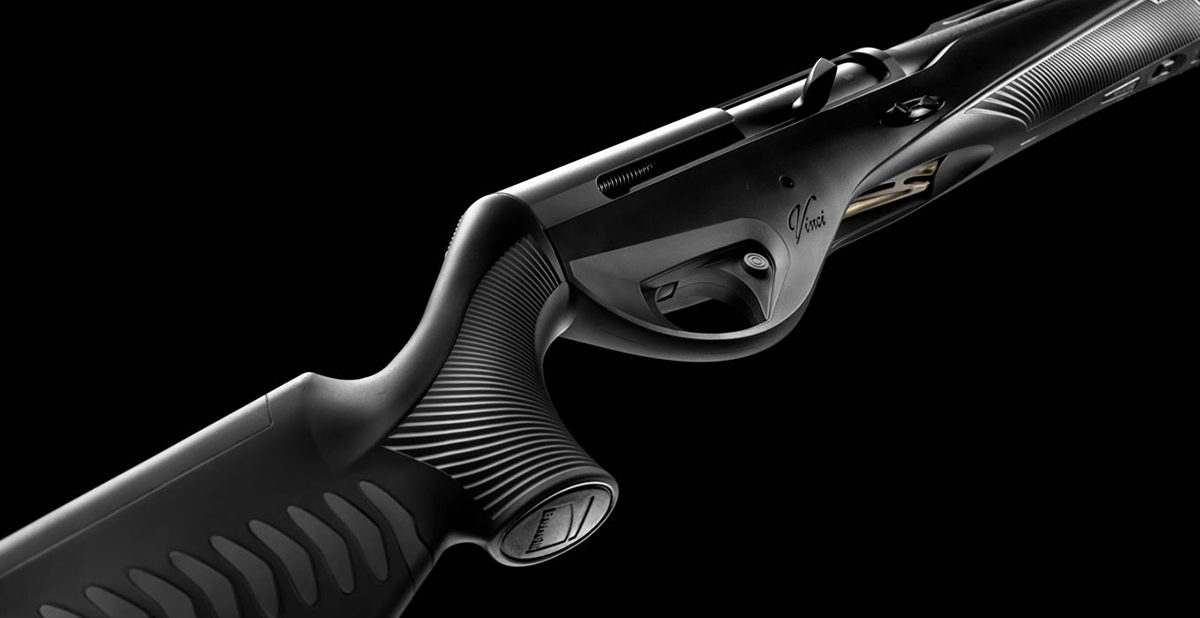 Vinci: maximun innovation
One of the latest additions to the Benelli family, the Vinci is a totally original and innovative shotgun and a whole new concept in the world of semi-automatics. With the Vinci, form serves function, however. The Vinci is therefore revolutionary in looks too, improving radically on any shotgun made so far in terms of efficiency, simplicity and ergonomics. Creating complex designs is relatively easy. It is far more difficult to create a beautifully simple design. The Vinci delivers amazing performance and characteristics, but stands out even more for its wonderfully simple design, balance and modularity. The Vinci was designed to beat the competition. That is why it delivers unrivalled performance whatever the situation.